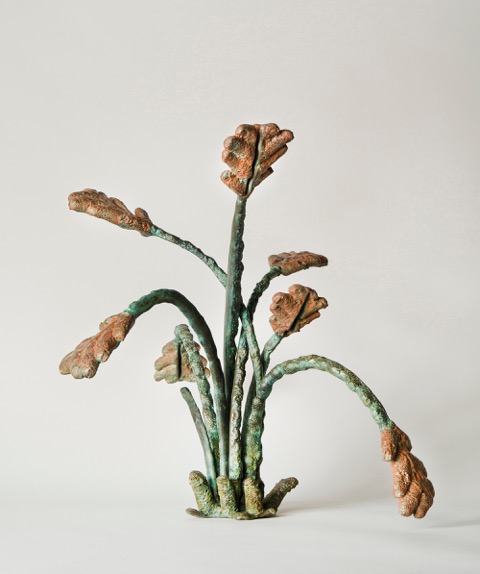 My sculpture fuses the forms and gestures of humans and the botanical world, embodying the living energy we share. I work with bronze directly, liberating it from the dutiful role of replicating forms made in other materials. The process begins in a sandbox. Hands, arms, and feet press into casting sand. I then ladle molten bronze into the hollows created by the body. I then weld the cast elements together, integrating the ancient tradition of cast bronze with the contemporary open forms of fabricated metal sculpture.
Hand Plants range in size from houseplants to public work. When installed in the landscape, they appear to grow straight out of the ground. Sometimes I introduce modeled human figures, creating a more narrative, mythic dimension. I also create double portraits. Referencing floral bouquets, they explore the dynamics of relationship.
Gina Michaels' work has been featured nationally in solo, group and public art exhibitions. Fellowships include Virginia Center for Creative Arts, Vermont Studio Center, New Courtland Fellowship in Philadelphia, and upcoming Dorland Mountain in Temecula, California. Gina received an M.F.A. from University of Pennsylvania, a B.A. from Oberlin College, and studied intensively at the New York Studio School.